At Thornton Heath Dental Practice, we have many years of experience in providing high-quality dental care to people who need a dentist in Thornton Heath. Whatever your reasons for choosing us, we'll help you to make decisions that benefit your overall health by enhancing your oral health.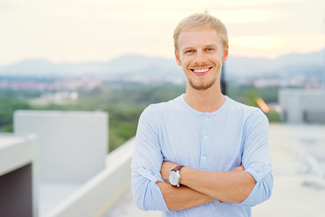 A wide range of dental treatments
Our multi-disciplinary dental services can improve the way your teeth appear, perform, and feel. At regular check-ups, we can detect the subtle early signs of decay that you can't see at home. Making timely adjustments to your oral hygiene routine, based on the latest dental research, will reduce the chance you'll develop gum disease and tooth decay.
Our patients often need a dentist in Thornton Heath who can fix the gaps in their smile. Lost teeth can cause oral health issues as well as aesthetic concerns. Our tooth replacement options include dental implants. This integrated technique will give you replacement teeth with natural durability and impressive strength. You'll be able to enjoy biting into your favourite foods without worrying that the new teeth will fall out.
Cosmetic worries are another reason people come to our dental practice. Common problems like tooth discolouration can build up gradually over many years. Our teeth whitening treatments are a speedy way to get yourself a dazzling smile. Facial rejuvenation procedures tackle the signs of ageing in key areas of your face, giving you a more youthful appearance. Procedures like these from a dentist in Thornton Heath can even lead to an increase in social confidence.
A brighter dental future
Tooth realignment is one of our long-term treatments. Crooked teeth, as well as looking unsightly, can cause hygiene problems. Our contemporary braces and aligners, made from tooth-coloured or transparent materials, are a discreet way to improve your dental positioning. Although they take some time to complete, these treatments produce long-lasting benefits. They're fully customised for comfort and efficiency.
As a well-established dentist in Thornton Heath, one of our aims is to give you a healthy and comfortable dental future. You can access the treatment you need at the time you need it by booking one of our evening or Saturday appointment times. Plus, we provide emergency cover for those unexpected issues.